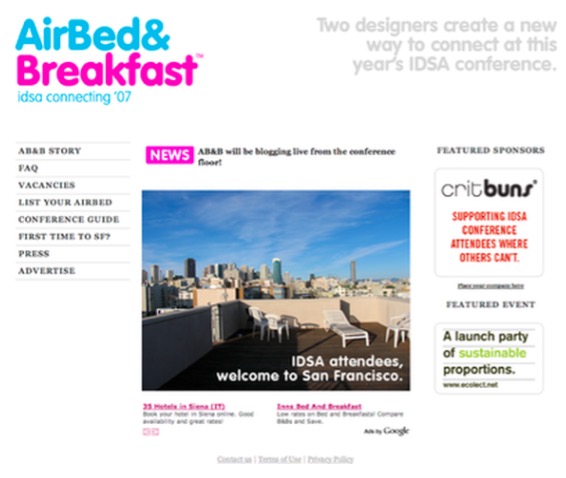 Brian Chesky and Joe Cebbia, two roommates from San Francisco, struggled with paying for the rent. They thought they could earn some cash by renting their apartment for a night. They bought 3 air mattresses and set up a page. They got 3 customers ($80/night each) when a big conference was going on in San Francisco, and the hotels were out of free rooms. They called their website AirBed&Breakfast. When Nathan Blecharczyk joined the team, their project became a website with hosts offering their places for booking a stay.
Guys went to Craigslist. They manually searched there for room-renting offers and wrote emails to their authors. They asked them to include AirBed&Breakfast in their posts. They got into Paul Graham's Y Combinator and changed their logo and their name (Airbnb).
They also "hacked" Craigslist. They coded a bot that looked for room-renting offers itself, and then sent emails.
When they got short on money, they released Obama O's and Cap'n McCain's cereals.
During the U.S. elections in 2008 Airbnb founders had an idea to use election season to produce and sell election-themed cereals – "Obama O's, the Cereal of Change," and "Cap'n McCain's, a Maverick in Every Box".
They designed, printed, and glued the cereal boxes themselves. They filled them with common cereals from a local shop.
They contacted the press trying to pitch their cereal boxes – It worked, and a week later they got featured on CNN.
Within a week Obama O's & Cap'n McCain's sold $30k worth of cereals – almost 4 times what the Airbnb core business had made before this moment.
To improve UX, they visited their hosts to take high-quality photos of the rooms, and then they put them on Craigslist with a positive opinion. Soon, Chesky, Gebbia, and Blecharczyk got investors.
(Source: Insider)